Keith Paper Company - Turners Falls MA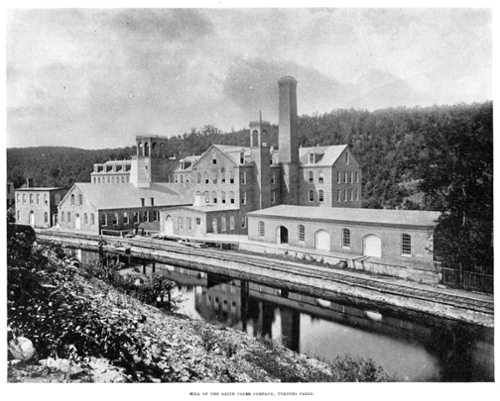 Keith Paper Company - Turners Falls MA
(Adapted from "Picturesque Franklin" , Wade, Warner & Co. , Northampton MA 1891
This publication was a "snap shot" of Franklin County businesses and industries as of 1891. This original article will not include the history which occurred afterwards, unless noted by the museum editor.)
The Keith Paper Company was organized in 1871, with a capital of $250,000, by John Keith, who was president and manager until his death in 1886.
The mill was finished and began running in 1873, but was destroyed by fire Nov. 7, 1877 and replaced by the present structure in 1878.
The product is five tons per day of fine writing, account book, wedding and card paper of the best grades, and about 200 hands are employed.
Pure spring water is essential in the manufacture of writing paper and this was secured by the Keith Company by laying a 12-inch iron pipe some two miles to the large spring at Deep Hole.
The present officers are ex-Gov. Alexander H. Eice, president and C. M. Burnett, treasurer and manager.
John Keith, Esq. was born Jan. 1st, 1828, at Dudley, Mass. At an early age he engaged in the stationery business in Worcester and later on added the manufacture of penholders to his business. In 1867 he was connected with the Valley Paper Co. of Holyoke for a year, and was afterwards with the Hampshire Paper Co., South Hadley Falls and Richardson "Upton & Co., Adams.
In 1871 he organized the Keith paper company at Turners Falls for the manufacture of writing paper and was president and treasurer of the same until his death Oct. 19th, 1886. He left a widow who resides in Boston.